VSU Archives
1993 to 1994
Fond Farewell to Headmaster Tony Jarvis
We say farewell to Headmaster Tony Jarvis, who has been a great friend and supporter of the Unit in his short tenure here at Sir Thomas Rich's. Especially in is backing for the new Scout Hut building project. We all wish him well in his future position.
This year saw a good range of ages within the unit and many varying activities being undertaken. Mention must be made of recently departed unit member Panji Grainger, who has been named as the English Basketball Association's Young Player of the Year. Congratulations Panji! Panji has represented England at four different levels from U15 to U23, competing at two European Championships. Now at Salford University Panji continues his basketball career with Manchester Giants.
A small milestone also was accomplished ... 25 Years of Venture44.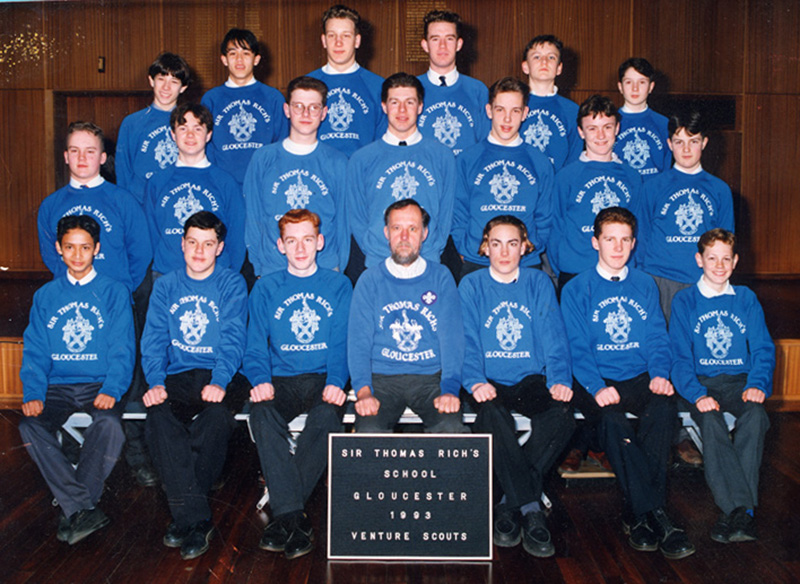 Venture 44 Edition 75 (published May 1994, Editor: FH) - Unit News, From the Headmaster (Tony Jarvis), Cotswold Marathon (Dave Frodin), Alas Poor Yorick (Mark Gilmore), Sponsored Pool Match (Jody Bevan), Sports Report, 'He's Simply the Best!' (Citizen report on Panji Grainger English Young Basketball Player of the Year), 25 Years of Venture44, From All Points
Venture 44 Edition 74 (published December 1993, Editor: Jeremy Lai Hung) - Unit News, A Ride on The Ridgeway (Mark Gilmore), The Never Ending Story (Tim Andrews), Unit Accounts 1992/3, From All Points, Spells of a Dark Magus (Steve Clutterbuck)
(tbc)