Tony Jarvis BEd (Hons) MA MBIM
Headmaster 1990 to 1994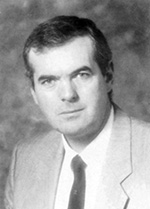 Tony Jarvis was educated at the city of Oxford High School for boys, which like Sir Thomas Rich's was an 11-18 Grammar School. He was an Oxfordshire county champion athlete at schoolboy and senior levels, represented Oxon, Berks and Bucks AAA and was a semi-finalist at the All England Schools Championships. He played rugby for school and Oxford Old Boys RFC.
He took his Bachelors and Masters degrees at the University of Sussex and taught in secondary schools in Sussex, holding senior pastoral and academic posts including three years as a Housemaster in boarding education. Prior to going overseas he was Head of English at Oathall Community College in Haywards Heath and a PGCE tutor at the University of Sussex. He was in Italy for six years as Deputy Principal - Headmaster of Secondary School at St. George's English School, an HMC Independent foundation serving the British and international community in Rome. He was also 'amministratore' - director of the St. George's trust.
In his four short years at Tommies, through his dynamism and educational business acumen, he dramatically improved the fortunes and reputation of the school, reversing the trend of dwindling pupil numbers, averting further threats of closure from the LEA, securing substantial funds for significant works and improvements to the school facilities and led the school to an excellent OfSted review. He left Tommies to take up the Headmastership of St Olave's Grammar School in Orpington, Kent, in which during his tenure to 2010 he brought about similarly substantial improvements to those he achieved at Tommies, culminating in St Olave's becoming The Sunday Times Secondary School of the Year 2008. From 2011 he took to educational consultancy and advisory work in the UK and Europe, listing director of Woodards education charity and Chair of Governors Hurstpierpoint College amongst his appointments.
He returned to Rich's in September 2016 to give the address and hand out the prizes at the annual Speech Night ceremony.


Archive material below is organised by academic year; a title link for each item, with a brief description of content, opens in a fresh tab/window.
Last addition to AJ period archives made on: 3rd July 2020
Academic Year September 1993 to August 1994
School Captain: M A Palmer
Cock House: Westgate & Eastgate (tie)
Richian 1994 - The Richian school magazine, including: Messages from retiring Head Tony Jarvis & new Head Ian Kellie; Editorial; School Year in brief; Staff: departures - Mr A Jarvis, Mr A Preece, Mrs E Trousdale & arrivals - Mr P Vaughan-Smith, Mr P Smith; Drama Productions - 'Orpheus in the Underworld', 'The Importance of Being Earnest; Winner of Whitbread Poster Competition - R Ellis 7T; Musical Richness - Spring Concert, Christmas by Candlelight; Young Enterprise trip to Dublin; Crest Awards; Food Technology; Russian visit to STRS; Work Experience focus; theatre trips - 'Hamlet', 'Julius Caesar', 'Return to the Forbidden Planet', 'Blood Brothers', 'Cats'; 'Hamlet' trip to Bremen; John Drake - 30 years at Rich's; three decades of The Richian - 1964, 1974, 1984; Fencing Club, Basketball Club & other sports reports; Old Richians.
Venture 44 Edition 75 - 44th VSU magazine with articles From the Headmaster, Cotswold Marathon, Alas Poor Yorick, Sponsored Pool Match, Sports Report, 'He's Simply the Best!' (Citizen report on Panji Grainger English Young Basketball Player of the Year) & 25 Years of Venture44.
Venture 44 Edition 74 - 44th VSU magazine covering A Ride on The Ridgeway, The Never Ending Story, Unit Accounts 1992/3 & Spells of a Dark Magus.
Staff - The dedicated 1993-4 Staff as they all lined up for annual school photographs.
"(event)" - (description here)

Academic Year September 1992 to August 1993
School Captain: A G Priestley & Matthew R Wilton
Cock House: Westgate
Richian 1993 - The Richian school magazine, including: Head's message; Staff departures - Mr J Carew-Jones, Mr G Russell; Staff arrivals - Ms M Gorby, Mr T Fearn, Ms B McCalla; Alan Quinn - Caretaker's Role; Theatre trips - 'An Inspector Calls', 'Hamlet; Choral Society's 'Carmina Burana'; 'Follow the Star'; Cock House report - Westgate win; Young Enterprise; BT Quiz winners; Yr 7 trips to Chedworth Villa, Stratford-upon-Avon, & Corinium Museum; Summer Fare; Göttingen; PE review; clubs & societies; Old Richians.
Venture 44 Edition 73 - 44th VSU magazine covering the new Scout Hut building, Cotswold Marathon report, sponsored bike ride, news from old boys plus the Spells of a Dark Magus.
New Home for Venture Scouts! - The 44th Venture Scout Unit gets a new HQ.
Venture 44 Edition 72 - 44th VSU magazine Norway Expedition Special.
"(event)" - (description here)

Academic Year September 1991 to August 1992
School Captains: Steven R Mitten & Emily M Bolton & Robert C Bielby
Cock House: Eastgate
Richian 1992 - The Richian school magazine, including: Head's message; Retirement of Mrs Irvine & Mrs Poole; Staff arrivals - Mrs P Barnes, Mr R Byrne-Burns as Bursar, Mrs J Spilsbury; Music, Drama & English reviews; Humanities, Ecology & Geology trips; Sports Reports; Unseen Army (cleaning team); Swimming Pool project; Sports reports; 'My 1st year at Rich's' by T Meredith; STR General Election; Ski trip to Serre Chevalier; Stratford-upon-Avon; German Exchange; Old Richians.
Venture 44 Edition 71 - 44th VSU magazine covering an Obituary - The Scout Hut RIP, World Indoor Climbing Contest & From the Land of Oz.
Venture 44 Edition 70 - 44th VSU magazine covering The Bracelands Experiment and the Annual Report & Balance Sheet.
Venture 44 Edition 69 - 44th VSU magazine covering The Diary of A MacNobody & Scotland '91 Expedition Notes.
"(event)" - (description here)

Academic Year September 1990 to August 1991
School Captain: Nicholas E A Carter
Cock House: Eastgate
Richian 1991 - The Richian school magazine, including: Editorial, School Captain's report & Parents Association; Interview with Mr A Jarvis; Farewells to Miss P Smith, Mrs Coldbourne, Mrs J Kemmett & Mrs R Poole; Welcome to Mrs M Haslett, Mr M Swann & Mrs J Grocott; 'Oliver!'; The Chess Report & Andrew Gettings; First Year Activities; The Richian Short Story Competition; Sports Profile - Michael Palmer; Official photographs - all Forms & Staff; Rugby, Cross-country & Cricket reports; Old Richians.
Venture 44 Edition 68 - 44th VSU magazine covering Up for the Cup, The Sun Run, Ben Nevis the hard way, DIY - An Alternative Battle Plan, Down Memory Lane, Of Beer and Thermos Flasks and Karrimats.
Venture 44 Edition 67 - 44th VSU magazine covering Christmas in Norway, On Ski in Austria, Culture, Top Gear, A German Exchange, Teach Yourself Spanish, Iraqnaphobia & Summer Camp USA.
Venture 44 Edition 66 - 44th VSU magazine covering Another Bed Race, Swimming Pool, Half Term at Hay, It's A Long Way to Lower Lydbrook, The Quiz Kids & Steve Chalkley's Himalayan Adventure.
Venture 44 Edition 65 - 44th VSU magazine Norway 90 Expedition Special.
Official School Photographs - Staff & Form group photographs for academic year 1990 to 1991
"(event)" - (description here)