W Gordon Heap MA BEd (Hons)
Headmaster 1973 to 1989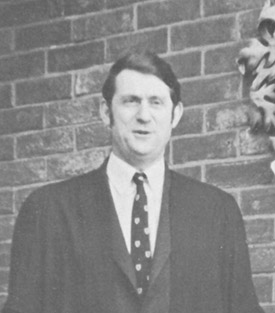 Gordon Heap, as he was best known, was born in 1934 in Stratford in Manchester and was educated at the Grammar School in Preston. From there he graduated to Emmanuel College Cambridge where he attained a degree in Geography. From 1958 to 1963 he was a master at The King's School in Gloucester, teaching Geography and assisting with games. In 1963 he moved to Solihull Public School as Head of Geography and then in 1969 was appointed Deputy Headmaster of Aldridge Grammar School in Warwickshire. In 1973 he succeeded out of over 100 applicants to become Headmaster of Sir Thomas Rich's, taking up his post at the start of the summer term.
Gordon Heap is to be remembered foremost for his enthusiasm and involvement in every aspect of school life. Such a commitment brought him into personal contact with all pupils at some stage of their school career; maybe it was at the New Boys' morning in the June before entering the School, or at a Third year or Sixth Form option meeting, a format he introduced to personally assist pupils in their choice of subjects and career; or at a Sixth Form Oxbridge or UCCA interview; perhaps as a member of the Squash Club - a game in which the Headmaster himself excelled - or supporting a school function - games, music, drama, public speaking or a Saturday morning detention! His try-scoring appearance as a No. 8 in Staff/Old Boys representative rugby match versus the 1st XV in front of a whole-school crowd was something to be seen! And perhaps even on a Sunday morning one could meet Gordon jogging in and around Gloucester.
Throughout his 17 year Headship Gordon Heap resolved to maintain academic standards. Yet he was not concerned only with the high-fliers. He is remembered for his kindness and interest in those pupils who had difficulties in their studies - often giving extra tuition - and readily giving his time and advice to anyone who sought it - pupils, colleagues, parents, even Old Richians. He had a dry, dead-pan, North Country sense of humour which often left his charges guessing!
Gordon Heap also worked hard for the School behind the scenes: he was involved with the move of Education from City Council control to County Council control, influencing numerous controversial plans for reorganisation in order to maintain Sir Thomas Rich's as a traditional boys grammar school. He battled tirelessly for a fair deal from the Gloucester United Schools' Charity, building up substantial funds for the subsequent development of the school in terms of both fabric and pupil numbers.
Gordon Heap died on 20th August 1999 aged just 65 while holidaying in Majorca.


Archive material below is organised by academic year; a title link for each item, with a brief description of content, opens in a fresh tab/window.
Last addition to WGH period archives made on: 3rd July 2020
Part Academic Year September to December 1989
School Captain: Nicholas J Easen
Venture 44 Edition 61 - 44th VSU magazine covering The Bed Race 1989, Survival Night, Dolgellau - August 1989, Mont Blanc.

Academic Year September 1988 to August 1989
School Captain: R P Freckleton
Cock House: Southgate
Richian 1989 - 'The Richian' school magazine, including: School Captain's Report; Parents' Association; Farewell to - Ian Cutting, Barry Dawson, Liz Sutherland, Faith Jones, Anne Edwards, Glyn Jones, Morgie Mouat, Jan Dawe (who only joined us in Sept 1988); Welcome to - Bob Fowler, Jennifer Colclough, Susan Burslem, Alan Quinn and Ian Kellie; About the new curriculum; All change - Betty Irvine moves to new role of Bursar and Jan Brown promoted to School Secretary; 'Trial by Jury'; Artist in Residence Rebekah Tolley; Short Stories by Jason Dickson & Jeremy Biggs; Karen Hill - first Observatrix; Clubs & Societies; Sport - Krystian Fulman England U16; Poetry; Old Richians.

Academic Year September 1987 to August 1988
School Captains: James C Methven & Nigel J Page-Jones
Cock House: Southgate
Richian 1988 - 'The Richian' school magazine, including: School Captain's Report; Parents' Association; Editorial; Bon Voyage - John Winstanley, Ioan Davies; Bien Venu - Viv Rees, Liz Sutherland, Faith Jones, Alisdair Jamieson, Brian Dawson, Sarah White, Pam Joshua, Melanie Gummer, Alan Preece, Annie Edwards; Drama - 'Kes' & 'Christmas by Candlelight'; All that Jazz - Dixieland Jazz Band; Adventures Abroad - France & Germany; 'A Coach Too Far' - diary of a ski-trip; Short Stories Winners - Philip Skelton & Adam Cook; Red Nose Day; Clubs & Societies; Winifred May Thompson; Sugar & Spice; Poetry; Sports & Sports Day Results; Old Richians.
Venture 44 Edition 60 - 44th VSU magazine covering Venture Scouting Relaunch, VSL's Notes, The Cotswold Way, Berkeley Nuclear Power Station, The Fastest Bed in the West & Unit Accounts.
"(event)" - (description here)

Academic Year September 1986 to August 1987
School Captain: James C Methven
Cock House: Eastgate
Richian 1987 - 'The Richian' school magazine, including: School Captain's Report; Parents' Association; Editorial by AJ Tidmarsh & JP Tawn; Farewell to - Eric Smith, Michael Rangeley, Graham Middleton, Andrew Pearce, Judith Morris; Welcome to Steve Morgan, Peter Lloyd, John Carew-Jones; 'A Glimpse into the Past' - Tommy's 50 years ago by Leslie Price; Clubs & Societies; Music & Drama - Piano Evening, 'Bang', 'She Stoops to Conquer'; Short Story Competion winners Andrew La Bouchard and Louis Delwiche; The Story of Sir Thomas Rich's Boat Club; Trips abroad - La Couronne, Sonnenberg, Brittany, Göttingen, Cayeux-sur-Mer, Ski trip to Telfes in Austria; Racing Beds with the Venture Scouts; Study of Flaxley Abbey; Sports; Old Richians.
Venture 44 Edition 59 - 44th VSU magazine Norway Special - Summer 1986 Expedition Edition.
Venture 44 Edition 58 - 44th VSU magazine covering Secretary's Notes, VSL's Report, Annual Accounts Summary & Local Hero.
"(event)" - (description here)

Academic Year September 1985 to August 1986
School Captain: Richard A Harris & Christopher Taudevin
Cock House: Westgate
Richian 1986 - 'The Richian' school magazine, including: Editors' Report; Staff Editor's Report; School Captain's Report; Parents' Association; Staff arrivals - Judith Morris, Martin Hale, Pauline Smith, Stephen Pack, Faith Jones; Staff departures - Kevin Wells, Mike Bevan, John Cooper, David Watkins; Choir Captain & Madrigal Group reports; Festival of Nine Lessons & Carols; 'The Mikado'; Societies and Venture Scouts; Cowley Manor Course; Ski Austria; Five Schools Association; Sonnenberg Experience; Brittany & Göttingen Exchanges; 'A Passage from India' by Dr James Albert comparing German & English education; Computer department; Short Story competition; Squash, Rugby & Cross Country; Old Richians.
Venture 44 Edition 57 - 44th VSU magazine covering The Great Bed Race, The Venture 44 Survey Results, Windsurfing, National Cross Country Championship, A Cautionary Tale.
Venture 44 Edition 56 - 44th VSU magazine covering Rob Halford (In Memoriam), Editorial, The Raft Race, Culture Corner.
"(event)" - (description here)

Academic Year September 1984 to August 1985
School Captains: Jeffrey A Lyne & Chris N Mayo
Cock House: Eastgate
Venture 44 Edition 55 - 44th VSU magazine covering the Ireland 1985 Expedition.
Richian 1985 - 'The Richian' school magazine, including: Editors' Report; Staff Editor's Report; School Captain's Report; Parents' Association; Staff arrivals - Roger Lockey, Kevin Wells; Staff departures - Sarah White, Alan Foster, Martin Riley, Jonathan Aston, George Haynes; 'Pygmalion'; House Drama; Music; Venture Scouts; Radio Controlled Car Club; Societies - Naturalist, Debating, Railway; Christian Union; Couronne & Göttingen exchanges; 21st Anniversary of STR move to Elmbridge; Poetry & Prose contributions; Sport - rugby, cross country, squash, cricket, chess, canoeing; Old Richians.
Venture 44 Edition 54 - 44th VSU magazine covering Whitsun & Easter Expeditions, Annual Report & Unit Accounts, Jail Break for Ethiopia & Chinese New Year.
Venture 44 Edition 53 - 44th VSU magazine covering Bikers Special, From All Points & Mark Evans' Letter from Minnesota.
Venture 44 Edition 52 - 44th VSU magazine covering a Comment by Jason Stone, Raft Race, VSL's Notes, Annual Accounts, From All Points, & Go Well, Go Shell.
Venture 44 Edition 51 - 44th VSU magazine covering Espańa 1984 - Summer Expedition to Picos de Europa.
"(event)" - (description here)

Academic Year September 1983 to August 1984
School Captains: Richard R Kerswell
Cock House: Northgate
Richian 1984 - 'The Richian' school magazine, including: Editor's Report; School Captain's Report; Parents' Association; Staff departures - Mr 'Bomber' Jeffries, Linden Huddlestone, John Tavener, Allan Broome, John Burrows, Harold Potter; Staff arrivals - Ronald Matthews; 'The Yeoman of the Guard'; Societies & Clubs - Naturalist, Historical, Debating, Aircraft, Dungeons & Dragons, Christian Union, Angling, Computer, Five Schools Association; Contributions; Choir & Dorset Tour; House Music; Trips - La Couronne, Arran; Sport - cross country, tennis, squash, rugby, canoeing; Old Richians.
Venture 44 Edition 50 - 44th VSU magazine - 50 Not Out! - covering From Rich's to Rags, Row Lloyd on The Inca Trail, Leicester We Forget, Sports Report & Venture Scout Uniform.
Venture 44 Edition 49 - 44th VSU magazine Norway Special Edition!
Venture 44 Edition 48 - 44th VSU magazine covering a Comment by Yosh Cowmeadow, North Wales One, North Wales Two, Fourteen Just Another Cynic & Puzzle Page.
"(event)" - (description here)

Academic Year September 1982 to August 1983
School Captain: Richard S Barbour
Cock House: Northgate
Richian 1983 - 'The Richian' school magazine, including: Editor's Report; School Captain's Report; Parents' Association; Staff changes : departure - Sarah Hawker, arrival - Sarah White; Obituary - Doris Townsend; 'After Magritte'; Music; Society & Clubs - Railway, Naturalists', Aircraft, Platonian, Junior Backgammon, Dungeons & Dragons, Christian Union, Angling, Computer, Chess, Debating, Canoeing, Five Schools; 44th Venture Scouts; Contributions; Oxford Canal Trip; La Couronne & Göttingen exchanges; 'Richian II' Charter; Sport - rugby, cross country, squash, tennis, cricket; Old Richians.
Venture 44 Edition 47 - 44th VSU magazine covering The Art of Procrastination, Offa's Dyke Walk, Annual Balance Sheet, FH's Mountain Musings, A Short Walk in the Andes with Row Lloyd.
Venture 44 Edition 46 - 44th VSU magazine covering North Wales October 1983, Cotswold Marathon, Sorry - No Samples & Yosh's Page.
Venture 44 Edition 44 - 44th VSU magazine covering Notes & News, Be Sure to Wear a Ribbon, Who's Who in the Exec, From All Points, Alternative Technology and all that.
"(event)" - (description here)

Academic Year September 1981 to August 1982
School Captains: Robin J Bewley & Patrick J Phillips
Cock House: Eastgate
Richian 1982 - 'The Richian' school magazine, including: Editor's Report; School Captain's Report; Parents' Association; Staff arrivals - Jonathan Aston, Joe Gallagher, Ian Bowie; Obituary - Idris Williams; 'The Merry Wives of Windsor; Rich's at Westminster; Music; Societies & Clubs - Debating, Dungeons & Dragons, Backgammon, Radio-controlled model, Aircraft, Computer, Chess, Naturalists', Cycling, Angling, Railway, Christian Union, Historical, Five Schools; Venture Scouts; Contributions; Bus Fayre photo-gallery; La Couronne, Angouleme & Göttingen exchanges; Trip to the Stars - Planetarium visit; 'Richian I' Charter; Sport - tennis, cricket, cross country, rugby, squash, athletics; Old Richians.
Venture 44 Edition 43 - 44th VSU magazine covering Sports Report, The Adventures of Zebedee II, Life in a German City, Annual Accounts, Stars on Ice & Bridge over the River.
Venture 44 Edition 42 - 44th VSU magazine covering Sports & Social Round-Up, Scottish Expedition Report, Cotswold Marathon 1982.
Venture 44 Edition 41 - 44th VSU magazine covering Idris Williams (In Memoriam), Paddle '81 (Part the Second), From All Points, Motor Bike Racing.
Venture 44 Edition 40 - 44th VSU magazine covering Life Behind the Iron Curtain, VSL's Notes, Balance Sheet 1980/81, Gloucestershire Cricket 1981, Paddle 81 (the T-shirt Saga) & Information Desk.
"(event)" - (description here)

Academic Year September 1980 to August 1981
School Captain: Gary H Bridge & David R Cassell
Cock House: Westgate
Richian 1981 - 'The Richian' school magazine, including: Editor's Report; School Captain's Report; Parents' Association; Staff arrivals - Sarah Hawker; Staff departures - David Joseph, John Bloxham, Bill Spear, Robert Fowler; Obituary - Mr Eddie Pritchard; 'Waiting for Godot'; Music - Feedback, Music & Monsters; Reports - Debating Society, Christian Fellowship, Five Schools Association, Venture Scouts, Railway Society, Cycling Club, Historical Society, Friends of the Earth, Chess Club, Backgammon Club, Aircraft Society, Angling Club, Dungeons & Dragons, Film Society, Computing; Rich's Rides; Rambouillet & Göttingen exchanges; Arran; Contributions; Sport - Tennis, Squash, Badminton, Rugby (U13s undefeated!), Cross Country, Rowing; Old Richians.
Venture 44 Edition 39 - 44th VSU magazine covering Notes & News, Prize Crossword, Which Stove? & From All Points.
Venture 44 Edition 37 - 44th VSU magazine Norway 1980 Expedition Special.
"(event)" - (description here)

Academic Year September 1979 to August 1980
School Captain: Christopher J Davies
Cock House: Eastgate
Richian 1980 - 'The Richian' school magazine, including: Editor's Report; School Captain's Report; Parents' Association; Arrivals - Alan Foster, Franz Wienecke; Obituary - R T Moore; School Music; 'Androcles & the Lion'; Contributions; Rambouillet & Göttingen exchanges; Reports - Debating Society, Five Schools Association, Backgammon Club, Naturalists Society, Railway Society, Bridge club, Aircraft Society, Film Society, Electronics Club, Angling Club, Historical Society, Swimming & Lifesaving, 44th Gloucester Venture Scouts Unit, Christian Fellowship, Chess Club; Sport - Rowing, Badminton, Cross Country, Rugby, Tennis, Cricket; 5th Form Geography Field Course at Stow; Old Richians.
Venture 44 Edition 36 - 44th VSU magazine covering Sports Report, Easter at Bodesi, Cotswold Marathon 1980, Accounts 1979-80, University Life & The Real India.
Venture 44 Edition 35 - 44th VSU magazine covering Sports Report, The Great Bed Race, Special Report by Russ Watson, Isle of Wight, Subscription Stats, NewYork, New York & Exec Member.
Venture 44 Edition 34 - 44th VSU magazine covering Notes & News, Venture Award Thoughts, Half Term at Hay, Holiday 1980, From All Points, Egypt: An Impression & Back Page, the ....
Venture 44 Edition 33 - 44th VSU magazine covering A Stroll in the Country, An Excursion in Wales, From All Points, Kathmandu & Tropical India in a British Leyland Tin Box & Footnote (Size 9).
"(event)" - (description here)

Academic Year September 1978 to August 1979
School Captain: Kevin C Ball & Ian P Fletcher
Cock House: Eastgate
Richian 1979 - 'The Richian' school magazine, including: Editor's Report; Parents' Association; Choir 20th Anniversary Concert & Tour to Dorset; Young Richians in Concert; Rambouillet Can-Can; Contributions; Resurgam; Rich's goes On-Line; Middle Eastern Potentate Visit (D Q Hook); Geography Welsh Tour; The Lakes; 44 VSU Iceland Expedition; Reports - Historical Society, Chess Club, Debating Society, Christian Fellowship, Bridge Club, Angling Club, Railway Society, Venture Scouts, Backgammon Club, Naturalists' Society, Aircraft Society, Five Schools Association, Lifesaving; Sport - Cricket, Tennis, Rugby, Rowing, Cross Country, Squash, Badminton, Basketball; Old Richians.
Venture 44 Edition 32 - 44th VSU magazine covering Editor's Notes, Winter Hike, Annual Report & From All Points.
Venture 44 Edition 31 - 44th VSU magazine covering Impressions from the New World Part Two, 2500ft, Going Down, Knebworth, Wargaming (Iain Weir), From All Points & Letter from India.
Venture 44 Edition 30 - 44th VSU magazine Iceland 78 - A Venture 44 Special.
Venture 44 Edition 29 - 44th VSU magazine covering Manors Maketh a Man, Bodesi Revisited, Black Mountains 1978, Impessions from the New World & From All Points.
"(event)" - (description here)

Academic Year September 1977 to August 1978
School Captain: Ian Bewley & John Mellon
Cock House: Eastgate
Richian 1978 - 'The Richian' school magazine, including: Editor's Report; Parents' Association; Staff arrivals - Mike Bevan, George Haynes; Staff departures - Tim Saluveer, Edmund Tickner; Obituary - Mr William G F Bradford; School Music - Cathedral Evensong, Concert Evening, Handel's 'Messiah'; Rambouillet; The Lakes; Austausch Gottingen; The Great Debate - Education Review & threat to Tommies - W G Heap adds his Headmaster's viewpoint; Reports - 44th Gloucester (STRS) Venture Scout Unit, Naturalists' Society, Historical Society, Railway Society, Debating Club, Bridge Club, Cycling Club, Film Society; The Bus Fair Photo-gallery; Contributions; Sport - Cricket, Squash, Basketball, Cross Country, Angling, Chess, Rugby, Tennis, Rowing; Old Richians.
Venture 44 Edition 28 - 44th VSU magazine covering Editorial & GlosAid, Notes & News, Impressions of a Punk Rock Concert, Personally Speaking, Icelandic for Beginners 'Enginn'.
Venture 44 Edition 26 - 44th VSU magazine covering Notes & News, Bryn Boeth 1977, Boston Marathon Part 1, Hazards of Canoe Building, South of Scotland, A Poem (Anon).
"(event)" - (description here)

Academic Year September 1976 to August 1977
School Captain: Patrick P Montanaro & Robert E Day
Cock House: Eastgate
Richian 1977 - 'The Richian' school magazine, including: Editor's Report; Parents' Association; Choral Music; 'Gloria .. in excelsis' - Vivaldi performed by Choral Society; Salut Rambouillet; Dracomania - 'The Thwarting of Baron Bolligrew'; The Lakes; Reports - YOC, Historical Society, Film Society, Debating Society, Stamp Club, Junior Electronics Club, Railway Society, Astronomical Society, Venture Scouts, Amateur Radio Society; Contributions; The Great Debate - the Headmaster's views on proposed secondary school reorganisation in Gloucester and possible threat to the School; Sport - Athletics, Bowls, Rugby, Basketball, Squash, Football, Cross Country, Chess, Badminton, Table Tennis, Cricket, Croquet, Angling, Rowing,Tennis; Old Richians.
Venture 44 Edition 25 - 44th VSU magazine covering A Walk in the Black Mountains, Notes & News, Sponsored Sunday, Dean Walk Excavation, 'Shirley Williams, Education, Etc' & How the West Wasn't Won.
Venture 44 Edition 24 - 44th VSU magazine covering Notes & News, District 5-a-side, Cotswold Marathon, Midland Mystery, From All Corners & University Challenge.
Venture 44 Edition 23 - 44th VSU magazine covering Editorial & VSL Notes, North Wales Summer 1976, 'A Nice Hike Except ...' & Post Scriptum.
Venture 44 Edition 22 - 44th VSU magazine Island Venture Special Edition.
"(event)" - (description here)

Academic Year September 1975 to August 1976
School Captains: John S Price & Christopher D A Carter & Michael C Jones
Cock House: Westgate
Richian 1976 - 'The Richian' school magazine, including: Editor's Report; Parents' Association; Staff arrivals - Martin Riley, Andy Pearce, Edmund Tickner; Staff departures - Nigel Bates, Tom Smith; Obituary - Tom C Sweeting; Rambouillet; Lake District; Choral Music - Choir at Gloucester Cathedral, Choral Society's 'Handel & Horror', Madrigal Group Hastings Tour; House Music Festival; Reports - Amateur Radio Society, Aircraft Society, Debating Society, Astronomical Society, Railway Society, Historical Society, YOC, Electronics Club; Contributions; Sport - Rugby, Angling, Squash, Cross Country, Tennis, Volleyball, Rowing, Bridge Club, Croquet, Chess, Cricket, Swimming, Badminton, Bowls; Old Richians.
Island Venture - 44th Venture Scout Unit take residence on the west Scottish isle of Gometra (by Ulva) and re-enact the Bonnie Prince Charlie (aka Mr Bill Spear) story for the Gloucestershire County Scout Jamboree.
Venture 44 Edition 21 - 44th VSU magazine with articles 'Coming of Age' by J A Stocks, VSL Notes, Alternative Technology, 'The French Connection' by John Price, Black Mountain Madness, 'Orienteering' by Rob Pragnell & Skiing.
"(event)" - (description here)

Academic Year September 1974 to August 1975
School Captain: James W Thompson
Cock House: Westgate
Richian 1975 - 'The Richian' school magazine, including: A Year in the Life ... ; Parents' Association; Staff arrivals - Geoff Barrington, Ralph Tucker, Carol North, Marguerite Bonneau; Staff departures - David Thomas, Brian Johnston, Paula Hewitt, Eddie Pritchard, Idris Williams; 'Twelfth Night'; Choral Society's 'St John Passion'; French without Tears - Rambouillet; Madrigal Mystery Tour; Glosaid; The Lakes by Donald Moss ŕ la Wainwright; School Music; House Drama Adjudicator's report; Reports - Wargaming Club, YOC, Electronics Club, Debating Society, Film Society, Aircraft Society, Railway Society, Astronomical Society, Historical Society, 44th Venture Scouts, Amateur Radio Society, The Imaginary Society; Contributions; Us and Them - interview with language assistants Wilfried Posch and Marguerite Bonneau; Andrew Dalton's Letter from University; Sport (with illustrations by Nick Harris) - Rugby, Swimming, Lifesaving, Rowing, Cross Country, Volleyball, Croquet, Athletics, Chess, Cricket, Angling, Tennis,Bowls, Badminton, Bridge; Old Richians.
"(event)" - (description here)

Academic Year September 1973 to August 1974
School Captain: Philip D Parker
Cock House: Eastgate
Richian 1974 - 'The Richian' school magazine, including: Editorial; In Retrospect; Parents' Association; Interview with Mr Heap, Headmaster; 'The Mikado'; Venice & Florence Trip; Festival of 9 Lessons & Carols; Choral Society perform Haydn's 'Creation'; Choir at Cathedral with extracts from Handel's 'Messiah'; Farewell Mr E Cothey; School Secretary Miss Doris Townsend retires after 22 years; Contributions; Bird life around the school; Rowing; Societies - Literary, Astronomical, Debating, Railway, Amateur Radio, Aircraft, Historical, Photographic, PSV Club, Bridge Club, Stamp Club, Chess Club, Christian Fellowship, 44th Venture Scouts; Sport - Tennis, Croquet Club, Volleyball, Angling, Badminton, Cross Country, Rowing, Lifesaving & Swimming, Rugby, Cricket; Old Richians.
''The Mikado'' - photographs from the school production of Gilbert & Sullivan's operetta, December 1973.
Venture 44 Edition 13 - 44th VSU magazine with articles 'The Matterhorn' by Steve Chalkley, 'Scotland 1973' by John Barnes, 'Half Term Camp' by John Price, VSL Notes & 'Personally Speaking by Andy Messam.
"(event)" - (description here)