Return to the Sports Archive Index Page
Welcome to the Rowing Section of Sir Thomas Rich's Sports Archive!
A title link for each item, with a brief description of content, opens in a fresh tab/window.
Last addition to rowing archives made on: 21st June 2020
The Story of Sir Thomas Rich's Boat Club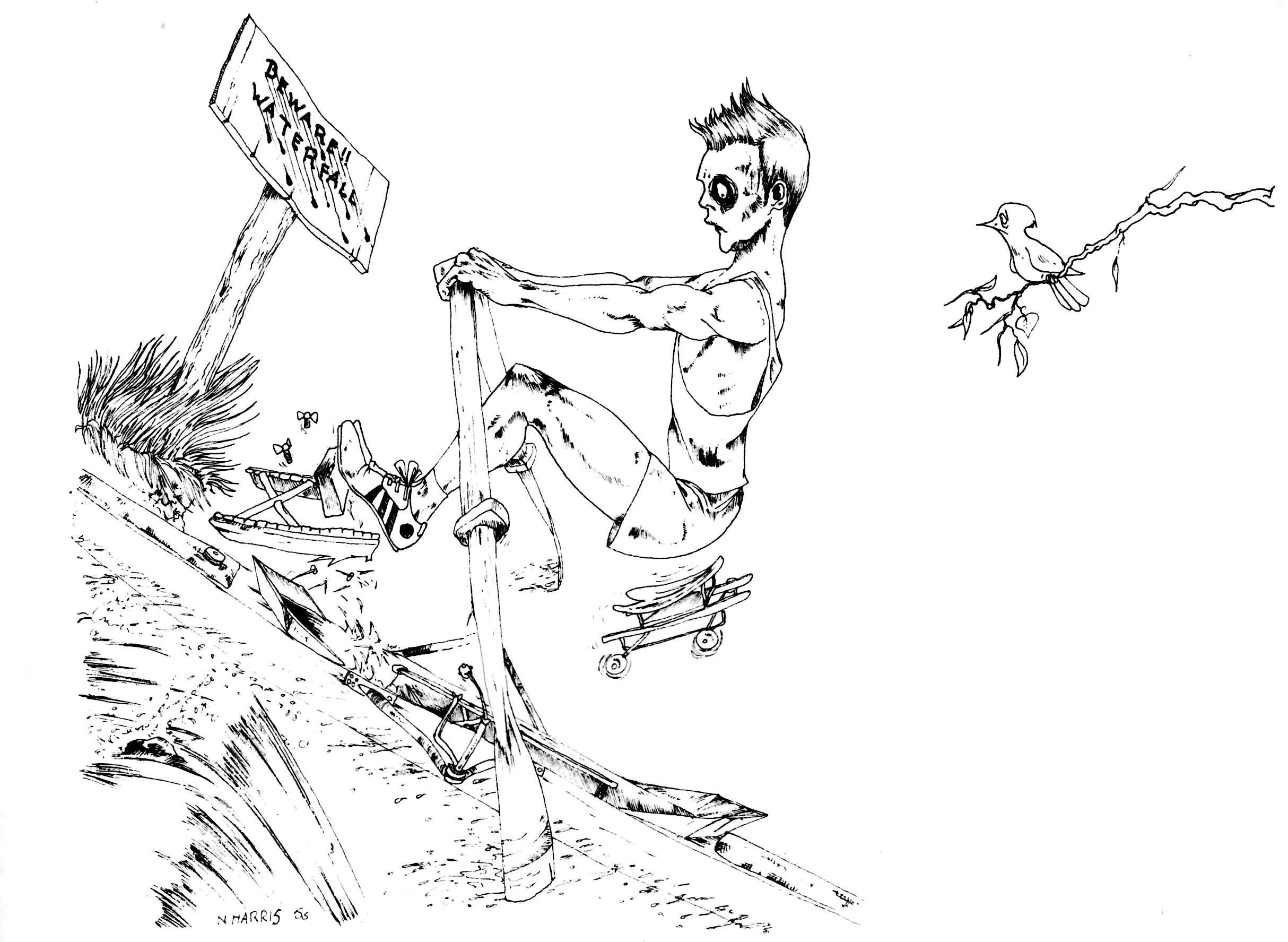 The first Richians to make use of the Gloucester Rowing Club facilities did so in 1938. Rowing was not taken seriously until 1960 when Mr Terry, an Old Cryptian, started coaching and entering crews for regattas. Success was achieved in the years 1962/3 with wins in School Fours events at Birmingham and Worcester Regattas and a win in Maiden Fours, an open event, at Worcester. Ralph Tucker, who subsequently became a member of staff at Rich's, was at that time Captain of Boats.

In 1965, Mr Middleton, another Old Cryptian, inherited a Rowing Club consisting of some half-dozen upper-school enthusiasts.
Rowing competition is not of the inter-school variety but involves open regatta competition against not only other schools but senior clubs. Success to date at that point had not been great and it was obvious that rowing was a sport wherein the qualities of Science, Technique, Applied Mechanics and ultimate Team Spirit and Fitness formed an intricate interplay. Although some success had been achieved, it was obvious that upper school groups were of too advanced an age for them to acquire new motor skills.

A new generation of 3rd and 4th formers was introduced, cash raised from self-help projects, second hand boats and equipment purchased from public school 'jumble-sales', transport trailers welded and scientifically applied daily training introduced. Saturday morning sessions became the 'Way of a Man with a Blade'. Junior fixtures were arranged with helpful local public schools and success in regional junior events followed in due course. Crews were accepted as 'guinea pigs' at Coaching weekends, Mr Middleton obtained a National Coaching Award and was appointed Regional Junior Squad Organiser.

Trophies began to pour into Monday morning assemblies with embarrassing regularity and mothers exhausted tins of 'Silvo' as massive individual collections of tankards built up. One Saturday in Wales, as a radio commentary announced England's win in the World Cup, a single Rich's crew, treble, won School, Junior and Senior events. The Victorian trophies, all solid silver, caused serious insurance problems on their return to Gloucester.

Eights rowing was introduced following the purchase from London University of an ex-winning Henley Thames Cup boat. Mr Middleton recalls the boatman's incredulous look as he and David Lawrence calmly sawed the boat in half and carried away the two pieces, later to be sectionalised for transport! Rich's became an accepted name on the public school circuit, with regular entries at all the major Head Races and Regattas. Many old boys will recall the experience of rowing the Boat Race course on the London Tideway.

The 1968 season ended with a Silver Medal at the National Schools regatta at Pangbourne, the school being beaten only by Scottish Champions, St Mungo's Academy.

1969 saw perhaps the peak year of the club, with over twenty Open Trophies won.

Four Richians progressed to become Captains of their University Boat Clubs.

The Boat Club's halcyon days and events consisted of a regular annual round of away competition each weekend from February through to October. Distance races from Exeter University Head to Reading culminated in the Schools and National Head Races over 4 miles. May heralded the Dart Head in Devon, nine miles of picturesque but tortuous tidal competition. Junior status wins in this event were never relinquished. Summer term brought sprint regattas, the major source of silverware. The Ball Cup, the Midlands Championship event for smaller schools became virtually our own property, with consecutive wins at Senior and Junior level for some five years.

Even open sea rowing was contested, including one hair-raising Bideford Head, when the whole race was sunk in a squall off Appledore. Air-sea rescue returned the crew, but the racing boat was lost.

Summer holidays were sacrificed training for the Lincoln-Boston Marathon, the National Distance Event over 31 miles of fen land, contested by senior clubs and even foreign crews put this the ultimate stamina event and the final one of each season. The club had researched the now well-known 'glycogen shunt diet' practised by senior marathon runners, at that time only applied in West Germany, and in 1972 the club's epic attempt was made. Mr Middleton relates:

"Our Boston entry was a logistic challenge. Training and planning had been intense. We knew to the second where our crew had to be at each point on that course, researched from Ordnance Survey. We had to transport Racing Eight, equipment, special food, medical supplies and arrange accommodation. Supporters and camp followers made the Fosse pilgrimage early on the Sunday morning of the race. Hot conditions dictated ventilated clothing, electrolyte consumption and the inevitable fluid replacement supplies necessary in any marathon event."

The well planned event was even an anticlimax. The Club was the fastest School, fastest Eight, fastest Club and Outright winner, beat the course record by four minutes, within seconds of the time aimed for, and even relegated the British National Squad, just returned from the Munich Olympics, to a secondary position.

In 1975, news filtered through that a serious attempt had been made on the Loch Ness 22 mile record by a University Crew. The attempt had failed due to adverse surface conditions.

A Rich's expedition was mounted. It was apparent that guaranteed calm only existed on the Loch some two hours or so before dawn, soon to be broken by the prevailing SW wind funnelling northwards during daylight. Alarm clocks were set and with no little thought of Monsters, the crew left Fort Augustus in darkness. Accompanied by Guinness Record witnesses and a police escort on the bank, the cox set a course up the mountain-flanked black waters.

Dawn broke off Urquhart Castle and no little apprehension was felt as the horizon became dotted by breakers, thrown up by the building wind. Balers were brought into use as shift rowing became necessary. The buoys at the mouth of the Inverness Canal arrived just in time as the boat limped past and sank as it grounded on the northern end. But another record was broken and this still exists in the Guinness Book of Records.

Mr Middleton stresses the terrific commitment of boys, parents and school to the peak years of the club. He stresses the selfless dedication of Mr Bill Spear, now moved on (to Crypt), of Mr Henderson and the Venture Scout Unit for their help in transport and general enthusiastic involvement, grateful thanks to parents for monetary support, and to all enthusiasts for individual kindnesses, however small.

Memories of events and achievement never to be repeated will surely accompany forever the Old Richians involved in the Boat Club of Sir Thomas Rich's School.

(Based on recollections by Graham H Middleton)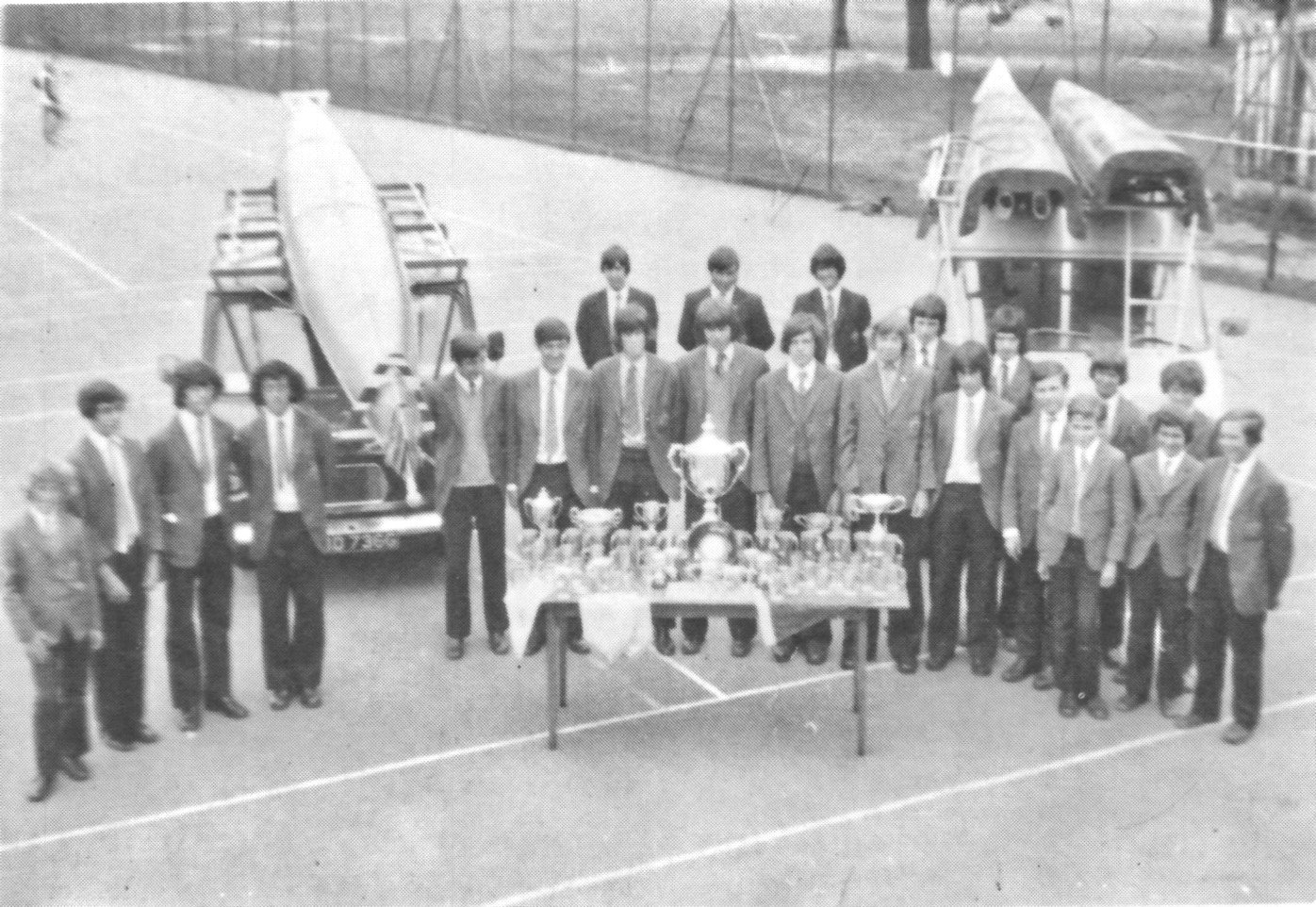 Rowing Club 1975
Keeping it in the Family!
The call of Loch Ness obviously passes from one generation to the next, for record breaking crew member Adrian's son, Angus, took on the 'Monster The Loch 2018' challenge as part of an Eights crew from Monmouth School. They were raising funds for Cancer Research Wales in memory of Tom, a junior cox, who died at the untimely age of just 13 years old.

Rich's 42 year old record finally broken - and it took a G8 crew comprising current Olympians and some of the country's top university rowers to set the latest record time. However, the record for fastest J-16 Coxed VIII still belongs to the Rich's Crew of 1976.
Row, Row, Row Your Boat ... - article written by Graham Middleton for 'The Richian 2004'
(item) - description